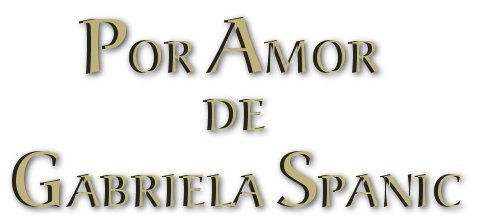 TELE GUIA / MEXICO
August, 4th-10th, 2001
BY:
Eva Diaz


GABY SPANIC:

THEY WANTED TO TAKE MY HUSBAND
She has it all, the beauty, sensuality and popularity: but, Gaby Spanic, Virginia & Vanessa from "La Intrusa", is a woman like any other, capable of making silly things for love, to have doubts, to create fantasies and even of hitting with the head to keep her relationship, even against her girlfriends. In this extended chat, she revealed to us what the real Gaby is all about.
* YOU DON'T DENY BEING SENSUAL?
- Miguel told me that. He says that I am sensual, but to be honest I don't consider myself to be sexy nor so sensual; I'm very comical at times, but nothing more...I'm embarassed when they tell me that I'm sensual.
* REALLY?
- Yes,when they give me flowers, I get shy...When somebody says: "You are pretty!" Or: "You look so good in this." I change a thousand colors.
* BUT, YOU ARE SUPOSE TO GET USED TO THAT...?
- I can't get used to it. Of course, I like feeling that way, it means I'm alive.
* AND TO AWAKE PASSIONS?
- I don't know...At times they tell me that I'm too calm, but I'm so involved in my own little world, that things are passing by me without even noticing it.
* BUT, WHEN MIGUEL LOOKS AT YOU, YOU PAY ATTENTION?
Ah! Miguel yes. He looks at me with so much tenderness, with passion and I think with admiration as well.
* EROTICLY?
- Well ofcourse! Everything, everything (smiling)
* WHAT ARE YOU DOING TO CONQUER HIM EVERYDAY?
- I have a rival in the house - a computer. This is the only vice he's got. I respect his private space. I spoil him a lot. I always keep telling him how much I love him.
* WHEN YOU WERE COOKING FOR YOUR HUSBAND, WAS IT HARD TO FALL IN LOVE WITH HIM?
- At the beginning, I didn't like him much, but his smile made me fall in love. I broke up with my boyfriend. I admited to him that I'm in love with Miguel. I told it to my ex and Miguel already had his life in order and even though he wanted to kiss me, he managed to stay away.
* AND WHAT HAPPEND AFTERWARDS?
- He made a decission and we started our relationship. He felt guilty, because he had a 9 year history with his ex and he wasn't sure about his feelings.
* WHAT DID YOU DO?
- I told him to think about things, that I will accept whatever he decides and that I love him.
* YOU LET HIM GO?
- At this moment, I suffered alot, I fell in love like crazy and suddenly I didn't have him, it was terrible. When I go back to that period of time: I cried a lot and I was seeing him on daily basis, we worked together!
* HE SAW YOU SUFFER?
- I cried at nights and when I was hiding in corners, but when I saw him, you know, I was always dressed up and very happy.
* DID YOU MAKE HIM JELAOUS?
- Yes, there was one in particular, Edgar and he was gay, but Miguel didn't know that. He came to the set and in front of Miguel he invited me to go to the movies or dancing. And Miguel was dying from jelaousy.
* WHAT DID HE DO?
- He was asking me: "How are you"? And you know, acting happy I responded: "Very well!" I tried to look indiferent. I think you never should show a guy that you are suffering for him.
* YOU TOOK ADVANTAGE?
- Yes. I wanted to play on his real emotions.
* WHAT ELSE DID YOU DO FOR HIM?
- This one time, when I went out with my gay friend in a bar, I couldn't take this depression anymore, so I got drunk!
* FOR MIGUEL?
- Yes, I was all around, holding the glass in my hand I started to sing a Gloria Estefan song...!
* WHICH ONE?
- The one that says: " I didn't think you were going to leave me, you said you fell in love again. I know that you will be sorry and you will have to come back! "...I never showed him anything.
* AND INDIFFERENCE WORKED?
- Right on the next morning, after I got drunk, he told me he loved me and we revived our relationship.
* ARE YOU HAUNTED BY THE SPIRITS OF YOUR PAST?
- No, because he's a very open and honest person and I know when he will stop loving me, I will be the first one to know.
* THE TWO OF YOU ARE AWARE THAT LOVE DISSAPEARS?
- We hope it won't go away. We are still like at the beginning. I believe in love.
* WITH SO MUCH WORK, WHEN DO YOU FIND THE TIME FOR A ROMANCE?
- There's always the time. We use to go out, get a few drinks in a restaurant, then we get home and we are continuing it in bed relaxing.
* WHEN THE MEN ARE LOOKING AT YOU, WHAT DOES MIGUEL DO?
- He notices it, then he starts: " I'm so angry...how are they looking at you!
* AND WHEN WOMEN ARE LOOKING AT MIGUEL?
- It touches me, but then I get very proud, because he's mine and he will be by the time God wants that.
* DO YOU SAY SOMETHING TO WOMEN THAT ARE SURROUNDING THEM?
- When he goes to Veracruz with me, the girls are all over him, then I say: "Hey, not so many kisses" or "I'm not jelaous, but I'm not renting him, eh...?
* MIGUEL IS A GENTELMAN AND GIRLS ARE SURROUNDING HIM...
- When he finds himself in a certain situation, he sets the limit: he gives me my place as a wife for other person to see it.
* THIS HAPPEND?
- Yes, with a person and it's a waste of time mentioning her name.
* WITH SOMEBODY FROM THE BUSINESS?
- No, with a "friend"
* SHE WANTED TO TAKE YOUR HUSBAND, IS THAT?
- Yes. Somebody I knew that I invited to my house; there were insuniations. this person won't enter my house again.
* WHO PUT HER IN HER PLACE?
- Miguel
* YOU WERE AWARE OF THAT, OR NO?
- Yes and I stopped talking to that person. Now everything's okay.
* HOW DID YOU FEEL IN TIME LIKE THIS?
- I felt my heart skipping, just like in old days, but Miguel has put her to her place.
* SO, THE GLAMOUROUS ACTRESS CAN SUFFER, JUST LIKE EVERY ORDINARY WOMAN?
- Yes, people think that behind a pretty face or an actress, there aren't dificult times. We have our own story.
* BEAUTY FADES, HOW ARE YOU PREPARING FOR THIS MOMENT?
- My dream is to be a grandmother. I'm not afraid of getting old.
* SO YOU WON'T BE OPERATED ON LIKE OTHERS?
- I will be very nice. A lady always in order, maybe with a wig, this is how I see myself in the future.
* WITHOUT OPERATIONS?
- If they exist, why not? I will be a very nice old lady and I will go out with my grandchildren.
* WITHOUT LETTING THE LOVE OF YOUR HUSBAND DIE?
Never! Even if it hurts me. I love preparing little surprises for my husband. Waiting for him in a sexy dress and with the perfume everywhere.
*AND WHAT ABOUT UNDERWEAR?
- I don't have sexy underwear. I'm shy. I can make myself to look sexy outside, but inside I'm not.
* DIDN'T YOU THINK ABOUT CHANGING THAT?
- Maybe, I did, but Gabriela is not that erotic, like you think. I'm more of romantic type.
THE END

Copyright: POR AMOR DE GABRIELA SPANIC
IF YOU ARE USING THIS INTERVIEW FOR YOUR SITE, PLEASE BE FAIR AND ADD MY LINK.