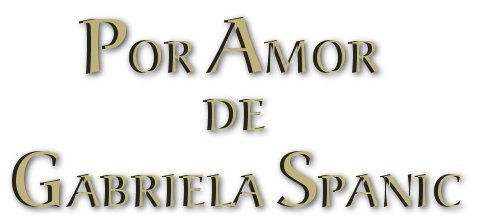 KENA Magazine / Mexico
September / 2001
By:
Gina Ureta


GABY SPANIC:
I AM LIVING IN A FAIRY TALE
Always with a smile on the face, in a peacefull surounding, very plesent, without hurry and the worries: That's how we did this interview, which turned out to be a real treat. We can confirm that Gaby not only is beautiful on the outside, but more beautiful on the inside. Her answers are a clear demonstration on how she thinks and why she could say that she is living in a real fairy tale of this millennium. Her marriage to the actor Miguel De Leon, who's also Venezuelan, is a living example on how good relationships, based on love and respect can survive in a difficult world of entertainment.
THE BEAUTY:
* HOW DOES A TYPICAL DAY IN YOUR LIFE LOOKS LIKE?
- It depends: If I am working I am getting up at 6 a.m., because the calls on the set are generally around 7:30 a.m. I am coming to
the set and I am spending around an hour and a half on make-up, hair etc...Then, I am working usually until 10 - 11 p.m.
In general, my big luxury is that Miguel is waking me up with a kiss and a cup of coffe that he prepared. When I am not working
and he's doing a telenovela, I am bringing him a coffe and I'm showering him with kisses. After that, I'm going back to sleep, like
until 1 p.m. That's the only way I can recover from the hard filmings. Then, I am getting up, taking my dogs to a walk, I'm cooking ( I like to do it ) and I am waiting for Miguel to come home.
* WHAT ARE YOU DOING TO STAY IN SHAPE?
- I am taking a good care of myself. I am doing the anti-diet by Marilyn Demond, which is functioning very well. Also, I'm excersisising to get some muscles.
* WHAT IS THE ROUTINE THAT YOU ARE DOING FOR YOUR BEAUTY?
- I am drinking liters and liters of water, sleeping alot ( when I can ) and most of all, to stay relaxed and in peace with myself.
* THE BEAUTY REQUIRES SOME SACRIFICES?
- Yes, the beauty is not given for free. It takes a certain ammount of discipline in physical sense as well as in the mental. It's important to say: I will watch what I eat and also how I am thinking. Because of a discipline, I am giving up on bad thoughts.
* DO YOU HAVE SOME VICES?
- The chocolate. I am eating it all day long, even though if it's just a little piece!
* FRIVOULNESESS?
- The coquetting: I can spend for like two hours to make me look beautiful.
LOVES
* HOW DID YOU MEET MIGUEL?
- Filming a telenovela "Como tu ninguna". Our characters were an couple and from episode to episode we fell in love for real. The
whole Venezuela was happy for our romance and even more, our wedding was televised.
Now, we have 4 years of marriage. The both of us are home people and we are enjoying the life very much. We are different on TV then in the real life and that alowes us to go out and not to be surounded by people.
* IS IT TRUE THAT MIGUEL BROUGHT BACK YOUR FAITH IN LOVE?
- Totally! I am going to tell you a tragic experience that I lived: Some years ago, back in Venezuela I had a boyfriend that I loved
very much. Unfortunatelly, he got drowned in a river...He was 22 years old. The trauma was bigger, because 4 days before that I
had a dream that he is going to die by drowning. I told that to my mother and she calmed me by telling me that this was only a
nightmare.
When this tragedy occured for real, I suffered very much. I fell in a big depression and I lost 25 kg's. I lost it in 3 months and
then I decided to participate in an beauty pagent to help me deal with the sadness I was feeling. I gained two awards:
Miss Photogenicy and Miss Body...and on top of all I gained a brutal illness hypoglucemia. With that experience, I learned that
one can't play with their own health: You need to take a good care of yourself and not to make absurd diets that can cause
serious health problems.
but, the one who healed me from the inside, was the love of Miguel. Now, we have an open, honest and mature relationship.
* YOUR TWIN SISTER IS YOUR ANOTHER GREAT LOVE?
- Yes. And even more: she lives with us. Between her and I, there are no secrets, we are very bounded. We have something very
special. Look, some years ago we fell in love with a same guy, but we both decided to leave him, not to hurt our big sisterness.
DEFINITIONS
* HOW DO YOU SEE YOUR PROFESSIONAL FUTURE?
- I have never visualized. I can only say that everything that happened to me was a big surprise. That's why I don't visualize. I am
dedicating myself to a God, ofcourse to my work and my discipline.
* ARE YOU A GOOD CHATOLIC?
- The trurt is, I am. I feel the presence of God in me and I am always thanking him for protecting me. What happened to my
boyfriend had a deep inpact on me, that's where I turned very much to God and I have become a very faithful chatolic.
* YOU ALSO DIDN'T VISUALIZE YOUR PRIVATE FUTURE?
- That I did...I would like to see myself as a grandmother around a big dyning table with all my family. I'm not affraid of getting old.
I also see myself as an older woman, but teaching the acting classes.
* WHAT ARE YOUR PASSIONS?
- First of all, my husband. After that, the smile on people's faces, the nature, the dogs, a freedom...
* YOUR FAVORITE DIRECTORS?
- Two women: Beatriz Sheridan y Martha Luna
* WHAT OBJECT DO YOU KEEP ON YOUR NIGHT STAND?
- Before I go to bed, I always lite a candle with a sent of a rose.
THE INTERIOR
* ARE YOU AMBITIOUS?
- No. I like stability. I am not attracted to designer clothes nor for the big mansions. I like to spend my money on trips.
*WHAT DO YOU THINK ABOUT TELENOVELAS?
- Like what? Look, I like the "pink" telenovelas: I like the fairytales and not the ones that are worst then a real life. Then, it's better
to watch the news or sometimes the cartoons, which are stronger then what's been going on on the streets.
* WHAT ARE THE MOST IMPORTANT VALUES FOR YOU?
- The honesty with the others and with yourself. Also, I believe in the marriage and most of all that one should love himself very
much.
* WHAT WOULD YOU TAKE TO AN ISLAND?
- A bunch of chocholate, my toothbrush and a big sun-shade...because I don't like the sun.

THE END

IF YOU ARE USING THIS INTERVIEW FOR YOUR SITE, PLEASE BE FAIR AND ADD MY LINK.