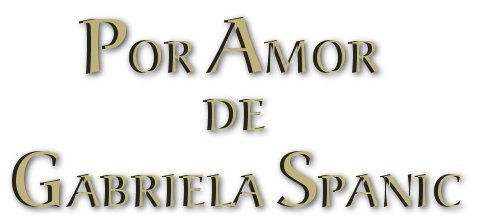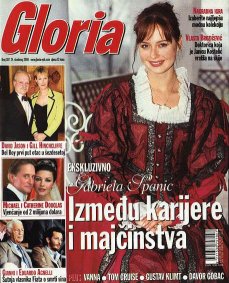 GLORIA
NOVEMBER 24th / 2000
Interview by:
SANJA RENIC
MY HUSBAND ALWAYS HAS A NEW WOMAN
While Croatian audience is getting warmer day by day with a new telenovela " Por Tu amor " ( Everyday on TV nov@ at 6 p.m. ) The main actress Gabriela Spanic is alredy involved with a new TV love story, that she started filming in Mexico at the beginning of October. The show's name is " La Intrusa " ( The Intruder ), which was the opportunity for this interview with a beautiful actress with Croatian roots.



* WHAT IS THIS STORY ALL ABOUT AND WHAT IS YOUR ROLE ALL ABOUT?
- We just started filming and we didn't get the whole script yet so, I don't know what the story of Virginia will be all about. She is an orphan who is suffering in the silence. This is a girl with a very strong character, who doesn't like to depend on anybody and while growing up, she's fighting for the family that brought her up. In the first episode it will be clear why the series is called " The Intruder ". The cast members are perfect. My partner is Arturo Peniche with whom I playied in " La Usurpadora " ( Lic. Serrano ), and many other actors from that series are also in this one: Laura Zapata, Enrique Lizalde & Chantal Andere. In " The Intruder ", there's also Karla Alvarez, known as Virginia from " La Mentira " ( The Lie ).

* WE HEARD THAT THE STORY OF " LA INTRUSA " IS VERY SIMILAR TO THE STORY OF " LA USURPADORA ", EVEN THE NAMES ARE SIMILAR?
- I wouldn't agree with that. Even though, the names are similar it's about two totally diferent stories: Here, I'm playing one character and in " La Usurpadora " I playied twins.

* THE SERIAL " POR TU AMOR " ( FOR YOUR LOVE ) ATTRACTS THE AUDIENCE WITH THE OPENING CREDITS BUT, ALSO WITH THE BEAUTIFUL LOCATIONS WHERE IT WAS FILMED. WHERE WAS THAT ANYWAY?
- It was in Guaymas, the Mexican town on the Pacific coast. There is a tropical climate, almost 40 C and the whole crew was exhausted from the heat.

* IN THAT SERIES YOU WERE PLAYING MARIA DEL CIELO, A VERY PROUD WOMAN WHO SACRIFICES THE MAN SHE LOVES FOR THE LOVE OF HER SISTER. IS SHE ANYTHING LIKE YOU?
- Between her and me, maybe there are some similarities in beeing proud and stuberness but, in general I have nothing in common with that character.

* HOW WAS THE ATMOSPHERE ON THE SET?
- The story was very entertaining, with many funny scenes. The show owes it's succes to the fact that the cast was very into it. On the set, there wasn't any gossiping, evilness and scandals...

* WERE THERE ANY FUNNY THINGS THAT YOU REMEMBER FROM THE SET?
- The scenes where Marco Duran ( Saul Lizaso ) must give Cielo a spanky. While filming those scenes, my husband Miguel was behind the cameras the whole time. We had to repeat that scene for about 20 times because, we were dying from laughing and in the meantime I got many slaps on the same place. I started to feel the pain and I told Saul: " Can you hit me on other side, please ". On that comment of mine, everybody bursted in laughing again and I was very embaressed. Luckilly, Saul is the perfect gentelman and a professional so, the embaressment went away very fast.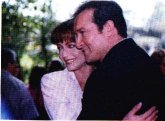 * MILLIONSOF WOMEN ARE GOING CRAZY OVER CHARMING SAUL. HOW WAS IT PLAYING NEAR THE ACTOR WHO IS SO LOVED WITH THE LADIES?
- This was the first time that we were acting together and all I can say is that he is a big professional, very responsible and a person that once you got to meet, you just have to respect. He's a big friend. During the filming he entertained all of us and he made us laugh. Aside to that, he's very charming and handsome and it's not a wonder at all, that women are reacting the way they do.

* IN TELENOVELA " POR TU AMOR " YOU WERE BLOND, FOR THE MAKING OF " LA INTRUSA " YOU CHANGED YOUR HAIR COLOR AGAIN AND NOW YOU ARE RED HAIRED. HOW DOES YOUR HUSBAND REACT TO THAT?
- He's overwhelmed. He likes me to change my look all the time, that way he can never get bored with me.

* WHAT ARE YOUR PLANS? WHAT ARE YOU GOING TO DO AFTER " LA INTRUSA " FINISHES?
- My contract with my TV company Televisa expires next year in May. I still don't know what will happend after that because, we still haven't talked about re-newing my contract. But, one thing is sure, I'm staying in Mexico.

* AFTER YOUR TOUR, TOGETHER WITH FERNANDO CARILLO TO PHILIPPINES, FERNANDO VISITED ZAGREB AND HE TOLD US ABOUT HOW YOU TWO WERE RECEIVED OVER THERE. DO YOU TWO KNOW EACHOTHER FROM BEFORE?
- I know Fernando from Venezuela, when we playied in telenovelas over there. We are good friends. We often get together with our Venezuelan friends in Mexico, there are many of them and we are making dinner parties with a Venezuelan specialities.

* THIS YEAR YOU TRAVELED ALOT, YOU WERE IN CROATIA, PHILIPPINES, ISRAEL, SPAIN...HOW DO YOU DEAL WITH BEEING SEPARATED FROM YOUR HUSBAND SO OFTEN?
- My husband Miguel de Leon, is an actor as well, he knows very well how much I'm enjoying my work and he is telling me to take all the oportunities and to go and see the world. We miss eachother very much because, we are separated most of the time because, of mine or his trips. But, this is the way it is, our job is dictating our life.

* WHAT IS MIGUEL CURRENTLY DOING?
- He is playing the lead role in the series for children " Carita de Angel " ( A little angel's face ). His partners are Nora Salinas and Juan Pablo Gamboa ( Graciela & Alvaro from " Esmeralda " ). Miguel is playing the father of 5 year old little girl, who's very naughty and funny. It's a series with over 160 episodes. They are filming it for over 5 months now but, it's worth it because they have a big rating. I'm happy because of Miguel succes. This is his first lead role in Mexico.

* RECENTLY, IN THE ONE OF MOST POPULAR LATIN TV SHOW " CRISTINA " YOU APPEARED AS A SINGER. HOW DID THIS PERFORMANCE GO?
- I was very nervous, I had a big stage fright because, It was my first appereance as a singer. I appeared in that show with the cast members from " Por Tu amor ". They were a big support to me. They kept giving me courage before the show. Even though, I love to sing, I am not a professional singer. I just wanted to take the chance that appeared, no matter how was it, bad or good. I don't want to be sorry at my old days for the chances I missed.

* DID YOU CONSIDER DOING IT MORE SERIOUSLY? DO YOU HAVE PLANS TO MAKE A RECORD SOON?
- I don't think about it now. There were some plans in the past but, it all stayied, for now only in plans.

* MEXICAN MEDIA CALLS YOU ONE OF THE BEST DRESSED WOMEN IN MEXICO. DO YOU HAVE YOUR OWN DESIGNER?
- Yes, I do. It's a young Mexican stylist Jorge Castellanos. He's very talented and educated. We have been working together for some time now: We are promoting eachother. Jorge's designs are getting more and more attention and they are getting more popular with the Mexican actresses. I'm not for a luxurious and expensive clothes by any cost. For everyday, I dress very casual and sportly and for the events I'm wearing very simple line of dresses. I'm trying to feel comfortable with what I'm wearing. It's not important to me if the clothes is labeled or not.

* IN " POR TU AMOR " YOU APPEAR IN THE BADING SUITS ALOT AND THEY REVEAL YOUR PERFECT BODY. HOW DO YOU TAKE CARE OF IT?
- I try to be on the diet from Monday 'till Saturdy. In the morning, I eat only the fruit, in 3 p.m. for a lunch, I have only integral pasta with fresh tomatoes, vegetable soup with the chicken or fried fish with a green salat.

* DO YOU LIKE MEXICAN FOOD?
- I adore it but, it's very fatening. I try to avoid it during the week but, on Sundays I'm giving myself a break and eat some of that Mexican specialities.

* YOU AND YOUR SISTER DANIELA OPENET A FASHION INSTITUTE FOR CHILDREN. HOW'S BUSINESS, WHAT IS DANIELA DOING,WHO WAS WITH YOU WHILE IN CROATIA?
- The first generation of girls finished our school. But, because of the trips and filming unfortunatelly, I couldn't take more time for the institute and we decided to close it. To make everything functioning, it requires the everyday atention, to look after everything and my work doesn't allow that. If the new chances will appear, we'll open it again. Daniela is trying to make a name in modeling but, the competition is big.



* AFTER RETURNING FROM CROATIA, DID YOU TALK ON THE PHONE WITH YOUR CROATIAN RELATIVES?
- Unfortunatelly, I don't speak Croatian or English so, I couldn't do it. But, my uncle Jure, who lives in Venezuela, is speaking Croatian so, he and my father talked alredy with our relatives. They told hem how happy they are that we met in Zagreb. As I said during my visit in Croatia, I would like to bring my grandmother Jelica to her home land that she left a long time ago.

* HOW IS SHE?
- She's very ill. She's suffering from aterosclerosis and she can barely remember her land. I called her to tell her that I was in Croatia and how it was. She's loosing her memory and concertration more and more and she's having a hard time recognizing even me. We have a hard time comunicating.

* HOW DID YOUR FATHER COMENTED YOUR VISIT TO CROATIA?
- He was overwhelmed and very proud. We had to tell him about our experiences in a detail. He's happy with the idea to visit Croatia with some of us, he alredy made a deal with his brother Jura, to go together.

* WHEN WILL WE SEE YOU AGAIN IN CROATIA?
- It all depends on the filming schedule. The air date for " La Intrusa " hasn't been decided yet and my schedule of duties depends on it, in the following months. If they will announce the air date soon, I could plan my trip to Croatia again, which remained as the most beautiful memory in my mind. I will take this opportunity to say: hello to all my family and to all the wonderful people I met there and who are now enjoying " Por Tu amor ". I promisse, we will see eachother very soon.