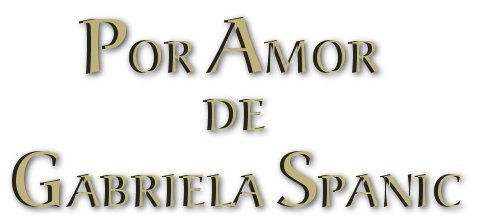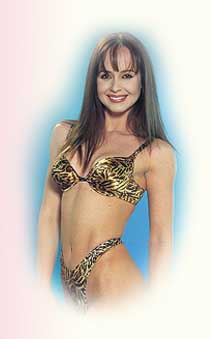 TELENOVELA / SPAIN
Issue # 384
FROM: 18-20th August, 2000

WRITTEN BY:
RAQUEL VEGA



I HAVE 30 BIKINIS AND 100 PAIRS OF SHOES

She is one of the most sexiest actresses from telenovelas. She admits that beauty is important, even though she doesn't consider herself to be a slave of her body. Her passions are: bikinis, shoes and cosmetics. About her beauty secrets, her professional projects and about love- is talking Gabriela Spanic.

* WHEN YOU ARE GOING TO BEACH, WHAT DO YOU PERFER, BIKINI OR ONE PIECE SUIT?

- Bikini, because it styles my body. I am not a fashion addict and I don't buy signed clothes. I'm not criticizing it, but I think that a woman can be beautiful and elegant, without spending a big fortune on signed clothes.

* YOU ARE FANATIC FOR...

- The bikinis and shoes. I have 30 bikinis and 100 pairs of shoes, some of them I didn't even get to stretch. Also, I love beauty products. I get crazy when I'm buying a tonics, gels and products for aromatheraphy.

*GABRIELA, DO YOU CONSIDER YOURSELF A SLAVE OF YOUR BEAUTY?

- I did before, because I have a tendency to get fat. What's happened, is that now I'm following a strict regime, It's called " Antidiet". It includes carbohydrates with proteins. It is substitute for salads, vegetables, fish, fruit and also I'm drinking 2 liters of water per day. When I have the time, I go to the gym, but I'm to lazy for exercising. On the other hand, on Sundays I'm off the diet and I enjoy eating Ice-cream or a delicious lasagna.

* WOULD YOU DO A PLASTIC SURGERRY, TO MAKE YOURSELF MORE BEAUTIFUL?

- I will try to avoid it. Surgery gets me panicked. There are a lots of cases where people fell in the coma during a liposuction.

* WHAT IS MORE IMPORTANT, EXTERIOR OR INNER BEAUTY?

- Without a doubt, the inner beauty, because with the years exterior beauty fades away and there's no coming back. If you consider yourself happy and you like yourself, it will reflect on your face and everybody will see your beauty.

* ANOREXIA IS AN VERY IMPORTANT ISSUE, WHAT ADVICE WOULD YOU GIVE TO YOUNG PEOPLE, THAT ARE SUFFERING FROM THAT ILNESS?

- To love themselves. Years ago, I did such a stupid thing. I did a diet on my own and I got sick. I lost 25 kilograms in 3 months and they had to hospitalize me. I spend two years of my life going to medical treatments in order to get my health back. For that, I would advice to all the young people, before they go on a diet for themselves, to consult a doctor. We can't play with our health, because It's our biggest treasure.

* GABRIELA, IS IT TRUE THAT YOU OWN A BEAUTY INSTITUTE?

- I am running a center, where people attend classes for make up, nutrition, courses on how to walk straight and the photography. The program is very completed and we are very happy with the results.

* EXCEPT THAT, YOU ARE ABOUT TO START SHOOTING A NEW TELENOVELA FOR TELEVISA?

- Yes, It's about " The Intruder". It seems like Arturo Peniche will be my partner, but nothing is confirmed yet. I'm glad because of it, I already worked with Arturo and he is a big actor. In " La Intrusa", I will be Virginia, a woman that is very strong and who knows how to fight.