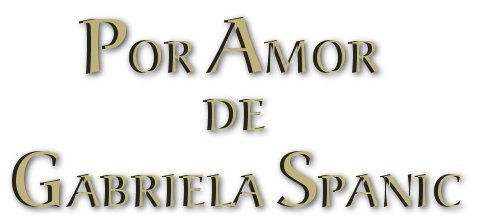 UNIVISION COM.
FROM "LA USURPADORA" TO "LA INTRUSA"
GABRIELA SPANIC IS MAKING NEW TELENOVELA

Gabriela Spanic, that does not let singing in the shower and it does not neglect her lessions of vocalization either, will start shooting her new telenovela, "La Intrusa". With which after of almost two years of absence returns to the Mexican television.

THEY WANT PENICHE FOR GABY

Ignacio Sada makes his debut as the producer of the telenovela "La Intrusa". The ex - executive of Televisa commented, that Gaby Spanic's co - star will be Arturo Peniche. They want to make him a lead actor, in the type of role that alredy made him famous. Sada showed that he's occupated with the idea, to make a production of quality and something new, but without loosing out of sight the basic elements of melodrama. "It is a classic telenovela in traditional genera, it contains strong ingredients. The subjects are various, about love, passion and missunderstundings, but I must clarify that the role of Virginia, that Gaby interprets is not a classic role of the victim, a girl who suffers. It will have sufficient strength to resolve things with troublemakers.

GOOD-BYE TO THE GOOD GIRL

It looks like, the actress and aspired singer to be, will manage to take off the image of the good girl, that is brought to her by her past two telenovelas in Mexico, "La Usurpadora" and "Por Tu amor". Sada commented, that this change of image, will not be difficult. "I was saying from the beginning, that each telenovela is different and "La Intrusa" does not have anything to do with "La Usurpadora". We are going to try to make a new image, so that people wouldn't connect Gaby with her earlier characters".

The producer explained, how this story, originated by Ines Rodena, will not touch a strong subjects, but also it won't be a typical Cinderella story. He said, that every producer is having the opportunity to experiment, but to certain extent and to keep the genera of telenovela alive, which is very fragile. "Our function is, to have enough tact to enrich a certain product, but not to loose a sight from fundamental ingredients of an telenovela, also to understand it in the best of terms. "La Intrusa" begins filming in Mexico City and the locations will be in cities like, Veracruz, Taxco and most likely, New York.

Other actors who will participate in this new production are: Karla Alvarez, Silvia Derbez, Enrique Lizalde, Sergio Sandel, Claudio Baez,Guillermo Garcia Cantu, Diana Golden, Laura Zapata, Dominika Paleta, etc...