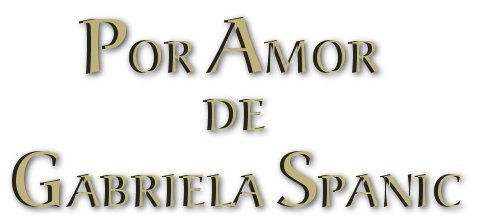 TV GUIA / MEXICO
GABY SPANIC IN "LA INTRUSA" ("The intruder") AND WITHOUT EXCLUSIVE CONTRACT
ARTICLE BY:
LIZBETH CRUZ JIMENEZ
In September, Gaby Spanic begins shooting of new telenovela "La Intrusa" ("The intruder").
Produced by Ignacio Sada. It is her third telenovela in our country and after that her exclusive contract will expire.
In this interview she talks about her future plans:
"My contract expires in may of next year. I don't know if "Televisa" will offer me a new one, but if it does, I'm staying.
I would like to stay for three more years, I like the way my career developed"!
* HOW DO YOU FEEL, TO BE IN ANOTHER MEXICAN TELENOVELA AGAIN?
- Good, I was starting to miss it. I spend a lot of time without work. I used all my free time to the fullest.
the time goes very fast and that means, I was feeling very good all the time.
All the free time I had went away very fast. We stabilized here.
Miguel (her husband) signed with the company for three years and now he is playing in telenovela "Carita de Angel" (A little angel face). We have our home here, we even bought new furniture for the house.
* DID YOU GET USED TO THE CITY?
- Yes, but still...I'm afraid to drive to not get lost, I have really bad sense of orientation.
At least, I know how to get to "Televisa" and to friend's house, but little by little I will get used to it.
* OKAY, WE CAN SEE THAT YOUR SISTER DANIELA IS VISITING OR DOES SHE LIVE WITH YOU?
- She's working as a model. She signed with an agency and she is doing fine.
She has been here for four months, but I do miss her when she's away.
Miguel is working, so Dani and I are doing things together, we are going to supermarket together, visiting stores, the institute, that makes me very happy.