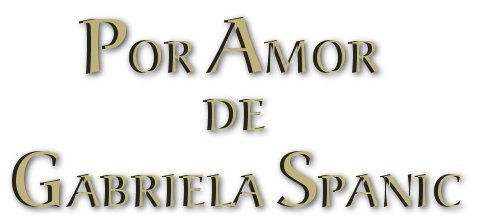 TV Y NOVELAS / US EDITION

July 31st, 2000

EXCLUSIVE CONTRACT FOR GABRIELA SPANIC WILL EXPIRE

FOREIGN ACTRESS WITH THE MOST SUCCESS IN MEXICO WILL COMPLIED HER CONTRACT WITH "TELEVISA" IN MAY OF 2001.

FROM:

Romel Martinez

Once the shooting of the new telenovela "La Intrusa" will be over, Gabriela Spanic will be free from her contract.

That will allow her to have new negotiations in favor of her professional career.

Until the may of 2001.Venezuelan actress is having exclusive contract with "Televisa", the company with whom she made

telenovelas "La Usurpadora", side by side with Fernando Colunga and "Por Tu amor" with Saul Lizaso.

In "La Intrusa", produced by Ignacio Sada and adapted by the writer Carlos Romero, the actress will be paired with Arturo Peniche.

MEXICO IS HER NEW HOME

Three years ago,Gabriela left her native country Venezuela to start a new life in Mexico,where she arrived as a star quality actress to star in "La Usurpadora".

"Making this novela meant a lot to me. I still remember how Carlos Romero said, if Thalia wouldn't do it, that he wants Gabriela Spanic

in a lead role. I will always be grateful to him for having that much confidence in my talent"!-commented the actress.

Gabriela took that, so wished opportunity and she took advantage of it 'till maximum.

In Mexico began her rising as an actress and the luck didn't only followed her, it also followed her husband Miguel de Leon, who managed to get a 3 year contract with "Televisa". Like that wasn't enough, her sister Daniela also signed a contract with a model agency.

*DID YOU GET MANY NEW WORK PROPOSALS?

- Yes, I was offered to work in Argentina and in other countries.

*IN MAY OF THE YEAR TO COME, YOUR CONTRACT WITH "TELEVISA"WILL EXPIRE, WOULD YOU LIKE TO CONTINUE WITH A COMPANY?

-I would love to. They treated me very well at "Televisa" and I think all of us benefited from the international success of the productions that I was in.

I'm in the best position to listen new business proposals.